Witni Miller, 2014 Consultant of the Year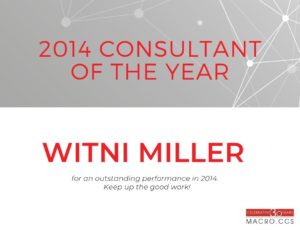 We are honored to recognize Witni Miller with our consultant of the year award.
Each year, we ask our clients to nominate MACRO.CCS consultants who have made a major impact on their business' ability to meet their goals. Clients are asked to rate their nominees based on performance on the job, soft skill and other relevant skills.
All nominated consultants receive a bonus in recognition of their achievement. In addition to the nominee's bonus, Witni, our 2014 recipient received an award and a party with her team and MACRO.CCS representatives to celebrate her success.
Witni was nominated for her work with global architecture firm NBBJ as a Procurement Manager. According to her manager, "Witni has truly been a life saver. She came into the position and improved processes and results with little to no on the job training".
Witni was also praised for her positive and energetic attitude as well as willingness to go beyond her job description. NBBJ was so impressed with her work that she was eventually hired to be their direct-hire employee.
Thank you for your hard work Witni – We are so proud to have someone with your work ethic and skill representing our organization.