Interviewing Tips
As you know, first impressions count. The interview determines whether you have a chance to make a second impression. To aide you in preparing for your interview, we developed this guide.
Your goal should be to positively impress the interviewer(s). Even if you ultimately decide you are not interested in the work or the company, your long term interests are best served if the company wants YOU. You will be remembered. To ensure that it is in a positive light, you should:
Arrive on time. Know the exact place and time of the interview, the interviewer's full name, the correct pronunciation, and title.
Know something about the organization: the location of the client's plants, offices or stores; how big the organization is, and what its products or services are.
Prepare questions to ask during the interview. While the company tries to learn if you are a good fit for the position, you should try to learn if this is an assignment where you can demonstrate your expertise, and add to your skill set. You should know:

The full responsibilities of the job
Any project timelines
Is training necessary?
What environmental factors affect the project /work / organization?
What are the keys to being successful in this position?
The next step

Ask us for advice on appropriate interview attire. This varies from company to company, and your representative should be able to give you specific guidelines.
The interviewer will be searching for information that will help them understand your strengths and weaknesses, your goals, your motivations, your maturity. The goal is to determine how well your abilities and interests fit with the organization's requirements. Remember that people generally hire people they like. With this in mind,

Turn off your cell phone.
Shake hands firmly.
Don't sit until offered a chair. Sit upright in your chair – it conveys interest. Be a good listener as well as a good talker. Smile.
Don't chew gum.
Maintain good eye contact.
Try to get the interviewer to describe the assignment and duties early in the interview so you can relate your background and skills directly to the position.
Answer questions truthfully and simply, with brief examples to add substance to your response. Do not ramble.
Don't try to control the interview. The interviewer has a short period of time to determine if you might meet the needs of the project. This cannot be accomplished unless your responses are brief and to the point.
Prepare for typical questions. Beyond what you did when, you might be asked: What kind of assignment are you looking for? What are your strengths? What would your last (or current) supervisor say is your biggest weakness?
Prepare for behavioral questions specific to the position (questions that ask how you would respond to a specific incident or set of circumstances).
Don't ever make derogatory remarks about your present or former clients, employers, or coworkers.
Don't discuss compensation related items. If you are interviewing for a consulting position and the company asks about rates, refer them to us.

Remember that the goal is to get an offer for the assignment. You don't know exactly what you're turning down until you have the offer.
In closing the interview:

If you want the position, be sure the client understands this.
Don't expect an offer during the interview. The interviewer will probably expect to make final arrangements through us, or may wish to interview more applicants before making a decision.
Thank the interviewer for his or her time.

Call us for a debriefing. Your account manager will also talk to the client, and be able to give you input on what they considered your strengths and weaknesses for this work. They'll be able to help you strategize your request for a specific start date. They can get you answers to the questions you thought of later, or felt were too delicate to ask during a first interview.
Finally, prepare a thank you email. If you want this position, this is your opportunity to re-address any issues you think you handled less than perfectly during the interview, and to stress the strengths you bring to the job. It also is an opportunity to demonstrate that you've already begun thinking about specific things you might do for the company. Did they mention a problem you'll have to solve? Give them an idea of what your first step would be in solving that problem. Show them how pro-active you are.
Use a land line whenever possible. If you must use a cell phone, please stay stationary. Even moving around a room can cause signal disruption.
Do not take an interview call while traveling in a car or sitting in a public place. It's a signal to the hiring manager that you do not take the opportunity seriously.
Stand if possible. It lends strength to your voice and sharpens your focus.
Any expression of interest and enthusiasm helps! So smile while you talk with them, even though they can't see you. It will be reflected in your voice.
Get to a quiet room & allow at least an hour for the talk. Let anyone who might be in the house / office know that you need uninterrupted time to be able to focus on the call.
Then focus. Stay off-line & don't give into the temptation to multi – task.
Keep your answers brief and to the point. They'll have a certain number of questions to get through in a limited period of time and if you spend too much time answering any one question, it detracts from the whole interview.
If you don't understand the question, ask them to repeat it.
If you don't know the answer to a question, don't try to make up an answer. Just let them know and move on to the next question.
If you used to know the answer to a question or solved a similar problem earlier in your career, it's o.k. to say that it's been several years, so while you can't remember the specifics now, you know where to find the answer or how to go about solving the problem.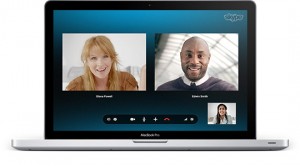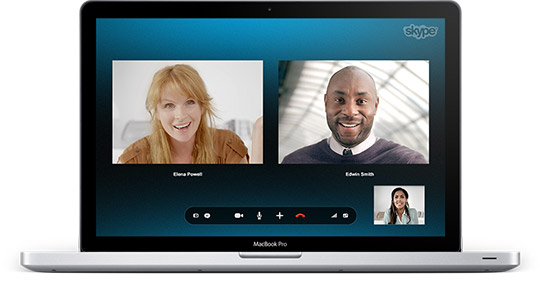 We at MACRO.CCS find ourselves increasingly using Skype as an interview tool. Granted, it can be rather buggy and choppy, but in the end it serves as a good tool for face-to-face time with candidates who live far from our offices in the greater Seattle, and Los Angeles, areas.  However, during these interviews we've noticed that people don't always prepare and present themselves as well as they should and thus decrease their chances of interview-success.  Following is a discussion of what we've noticed, and how it can be improved upon to increase the likelihood of interview-success. The more preparation, the less buggy, and the more professional and successful your next Skype interview can be.
Prepare your "studio"
Think of the room that you will interview from as a studio and prepare it to enable a positive impression.
Ideally, use a well lit room with a door that you can close to gain privacy for your Skype studio.
Ensure that everything in the room and within the camera's field of view is necessary. E.g. remove clutter.
Position the camera, don't point into other rooms (read: bathroom, TV room, kitchen).
Position the camera to capture you from the shoulders up.
Ensure that the camera is located in a steady position.  Since this is difficult with a cell phone camera, we recommend using a PC instead.
Have a copy of your current resume close at hand to refer to.
Have a tablet or pen and paper close at hand to take notes.
Test drive your "studio"
Before interviewing:
Ensure that your Skype profile is dignified and professional – remember that your interviewer will see your profile.
Test Skype, your camera and microphone with a friend.
Request to connect with your interviewer a day in advance of the interview.  This ensures that you can connect and you will have their user name on your dial list for an easy re-connect.  Ask if the interview will be a "conference" – note that some versions of Skype are not "conference" capable.
Ask your interviewer for an alternate telephone number in advance of the interview.  This may come in handy to continue an interview if Skype fails.
Configure your PC to record the interview – review the recording and improve your interviewing skills as you can.
Prepare your surroundings
Arrange to have a distraction-free interview:
Inform your housemates that you will be interviewing.
Put animals in a kennel.
Mute all cell phones and land-lines.
The interview
Put your best foot forward.
Dressing appropriately subliminally reminds you that this is an interview.  Dress as you would for an in-person interview.  Your friends who told you to wear a suit jacket or shirt up top and PJ pants on bottom – are wrong. If for any reason you have to stand up, we don't want to see you without pants.
Act naturally, smile, use your hands and try to make eye contact with the person you are talking to.
Don't open other applications or websites while interviewing.  If your IP bandwidth is minimal you will affect Skype performance.
Follow up
After the interview.
Make sure that you write down the names and contact information of all persons you interview with.
Follow up with the persons you interviewed by US Mail with a thank you card.