Infrastructure
We designate one engineer to be your single point of contact to help with your problems, from the most minor to those that require truly exceptional knowledge to solve. Our certified consultants are there when you need them – weekends, weekdays, evenings, you name it. We provide deep expertise in:
| | |
| --- | --- |
| IT Infrastructure Consulting | |
| | Business Continuity Planning |
| Exchange Email Messaging, Active Directory | Business Relocation / Computer Services |
| VMWare / Hyper-V Virtualization / Consolidation | Network and System Analysis and Documentation |
| | |
| | |
| Mobile Computing & Smart Phones | Mobile Connectivity and VPN Integration |
| | |
| | |
We offer new clients three hours of free analysis to help ensure that your systems are running optimally.(425) 641-7252
Visio Network Diagram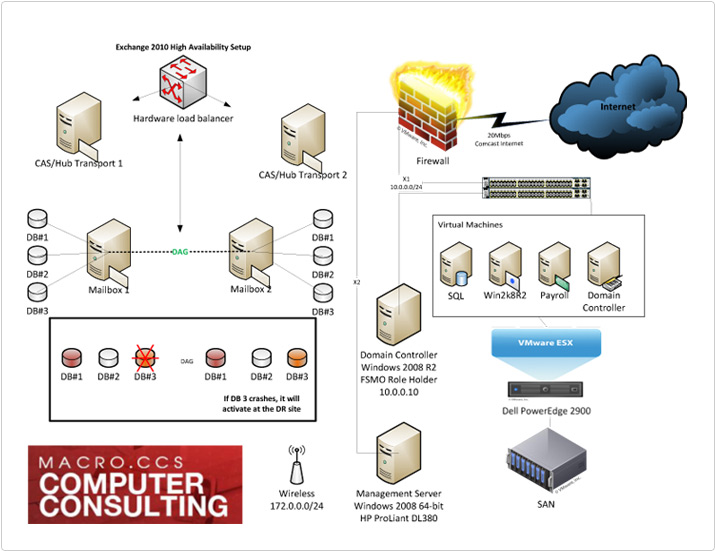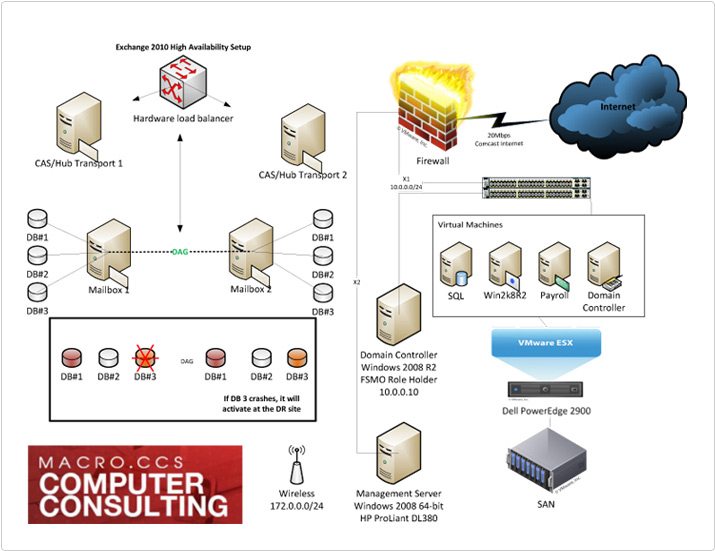 Our Partners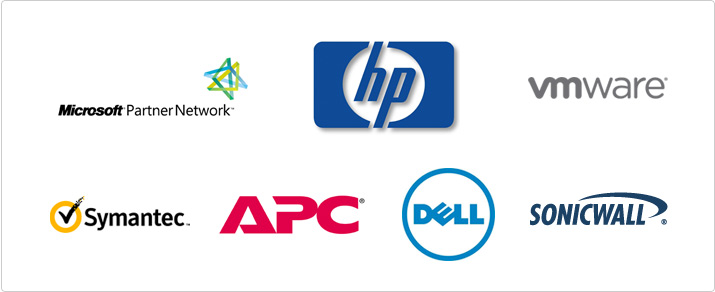 Examples of Recent Infrastructure Projects:
Disaster Recovery
Sound Transit
Conducted Disaster Recovery assessment  and provided DR plan using industry best practices to bridge the gap between current and future state for IT disaster recovery.  Established  DR framework:  provided strategy, repeatable processes and templates for DR plan deliverables as well as oversee the implementation of framework.  Work products included IT business impact analysis (BIA), identification of key dependencies supporting critical processes, an IT incident response plan, and BC and DR plan templates.
Exchange Migration
Central
Exchange 2003 to Exchange 2010: Three server implementation with High Availability, configured using Database Availability Groups (DAG)
Storm Exchange Recovery
Play Visions
A large storm knocked out power during the holidays and badly damaged the Exchange server. Macro.CCS got it up and running, but it had lost RAID and another drive failure would bring it down completely. Macro.CCS had Play Visions purchase a new server and over the holidays installed Exchange and moved all mailboxes, public folders and Exchange settings over to the new stable server. Other than the power outage there was no mail downtime.
Exchange 2000 to Exchange 2007
Play Visions
Straightforward implementation of Exchange 2007. Also implemented new backup solution using CA ARCserve and managed anti-virus using NOD32.
Annual Lab Refresh
University of Washington School of Social Work
Using Ghost and mandatory profiles annually reimaged the SSW computer lab. Tested and assured compatibility of all software applications.
VMware Project
University of Washington School of Social Work
2 ESX hosts connected to a Dell ISCSI SAN using vSphere Essentials and P2V all servers.
Active Directory 2000 to AD 2003
America's Credit Union
Upgraded all components of AD to 2003 including preparing the infrastructure, DNS and DHCP.