How to Ace a Skype Interview in Five Easy Steps
June 22nd, 2016, 0 Comments
We use Skype, a lot. On top of using it daily to interview non-local candidates, we also use it for meetings between our two offices, and we even use its chat function for in-office conversation. We also recommend it as a way for our clients to interview non-local candidates.
And in all this Skype usage, we've seen a lot of crazy things.
From messy rooms, to cameras showing us just the person's eyebrows, to loud distracting background noises (including a fire-alarm going off through the ENTIRE call), to spouses walking around disrobing in the background (yes, this happened, more than once.) These things are so easily avoidable, and yet they continue to happen.
While a Skype interview might feel like a less formal interview than an in-person, it certainly shouldn't be considered that way. In fact, a Skype call requires MORE preparation than an in person, as there than be more technological and staging issues. So in order to help you better prepare for your next Skype interview, we've created this handy infographic breaking down the five key tips for a seamless and successful Skype call.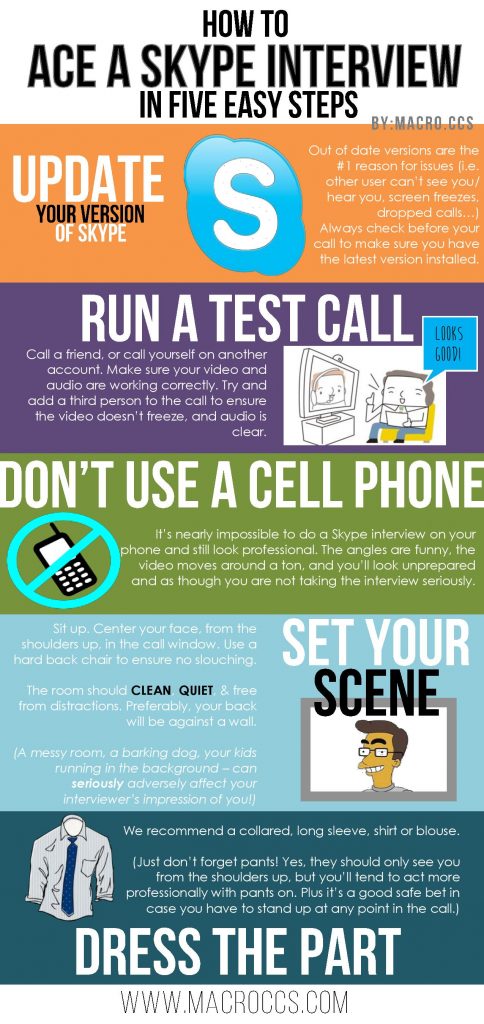 Share This: